Nurturing success in ALL kids since 1956. February 2019
TLC News & Updates
With young kids, every day is a unique adventure. Somedays, my daughter drops her coat and hat in the hall and sprints toward her classroom. Today, my daughter did not want to get dressed, get out of the car, come into the building, or walk down the hall to class. She told me her "legs were too tired to walk." When I arrived at her classroom with her lunchbox and no child, TLC therapist Fawn offered to go talk with her. Ten minutes later, they were jumping down the hallway "like frogs" toward class. My daughter was laughing and her legs were magically revived by the magic of Fawn's ability to talk to and work so well with children.
I'd say Fawn is special (ok, she is, I WILL say that), but at TLC her skills to talk a surly toddler into laughter and willing momentum are found throughout our highly-qualified staff of teachers and therapists. TLC serves children both with special needs and without, but all children benefit from the presence and training of the TLC therapists who work in every classroom and on the playground throughout the day.
As we frog-jump into and through 2019, we want to celebrate the talents and training of our staff, and let them know how much we appreciate the work they do with our community's children every day.
We're also grateful for you, who makes TLC's programming possible. As a non-profit, all dollars earned go back into the center to allow more children to enroll in our programming, to support our teachers and therapists, and to provide supplies that range from lidless clickable pens (a nice package is about $10) to augmented speech devices and mobility aids (hundreds of dollars or more). We have some ambitious goals for 2019, and your support is critical to helping us achieve them. One of these is converting our playground into an ADA accessible, nature-based playground with soft surfacing and shade canopies throughout. If you'd like to support this or any of our projects, please frog-hop over to our website.
When students are not being cranky like my daughter this morning, they are bundling up to go outside and keeping warm inside with pretend campfires, music with Ms. Teedee, YogaKids with Ms. Mia, and Young Athletes (in partnership with Special Olympics) with all teachers, and engaging in literacy-based curriculum and activities.
In March you might notice observers in our classrooms. TLC will be rated by Colorado Shines. Currently, TLC is a Level Four center, but after the installation of concrete barriers around our playground thanks to a generous in-kind donation from Nixcavating and the volunteer time of several parents, we hope to achieve a Level Five after this rating.
We'll also have our spring break the last week of March, and will begin sowing for our summer gardens. We're so glad you're on this journey with us! Even if you're cranky. We'll just have Fawn come visit with you for a bit, if so.
We're a Featured Nonprofit at Lucky's
Please remember to take your reusable shopping bags to Lucky's when you shop. You can donate your bag token to TLC Learning Center on your way out the door. Thank you to Lucky's for featuring TLC!
Stapp Interstate Toyota & TLC
At the 2018 Christmas Tree Festival, Stapp Toyota became our first Angel level sponsor. They also featured TLC in a commercial that is airing on networks now. If you haven't had a chance to see it yet, check it out below (and thank you so much to the team at Stapp!). Click the image or here to view the video.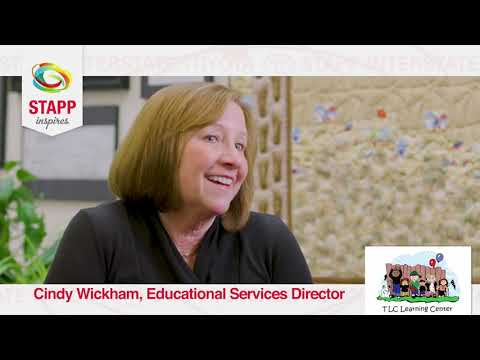 The Kentucky Derby Party is Coming
The 5th Annual TLC Kentucky Derby Party will be held on May 4th at Shupe Homestead in Longmont. Tickets will go on sale March 1st on our website, by phone, and on our campus. We are picking up envelopes today and will have invitations in the mail as soon as they are stuffed and sealed.
If you are not on our Kentucky Derby Party mailing list and would like to be, please respond to this email.
If you would like to sponsor the event or volunteer time to help stuff envelopes or plan the party or help out at the party, please contact our Events Manager Kara Broderick at kbroderick@learningwithtlc.org